Important News at TUHSD
So much is happening in our district! One of our goals is to help keep you informed of all the changes and positive activities taking place here at Tolleson Union High School District. Check back often, as we'll be updating this page frequently with the latest news and events.
COVID-19 Mitigation Plan
The Tolleson Union High School District (TUHSD) takes the safety and security of its students and staff very seriously. As a result, our district has been planning the specifics for how schools will conduct daily operations for when in-person learning takes place. This plan explains in detail what our mitigation strategies will be in order to give the public confidence that we are doing absolutely everything possible to help prevent the spread of the COVID-19 (coronavirus). For complete plan details, please visit the link below:
Homecoming Schedules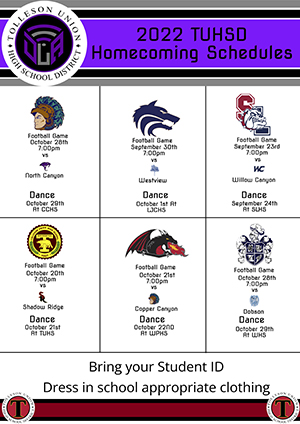 We invite you to view our 2022 TUHSD Homecoming Schedules to show your support for our wonderful district. Please remember to bring your student ID and dress in school-appropriate clothing when attending all homecoming events.
Extracurricular Activities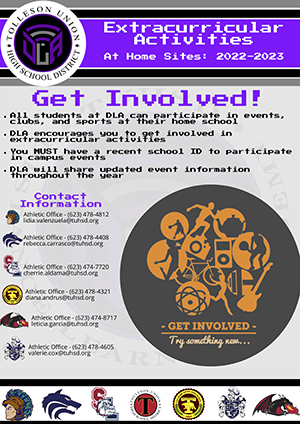 DLA encourages you to get involved in extracurricular activities. All students at DLA can participate in events, clubs, and sports at their home school. DLA will share updated event information throughout the year. Please remember that you must have a recent school ID to participate in campus events. View our Extracurricular Activities flyer for details.