Welcome to Distance Learning Academy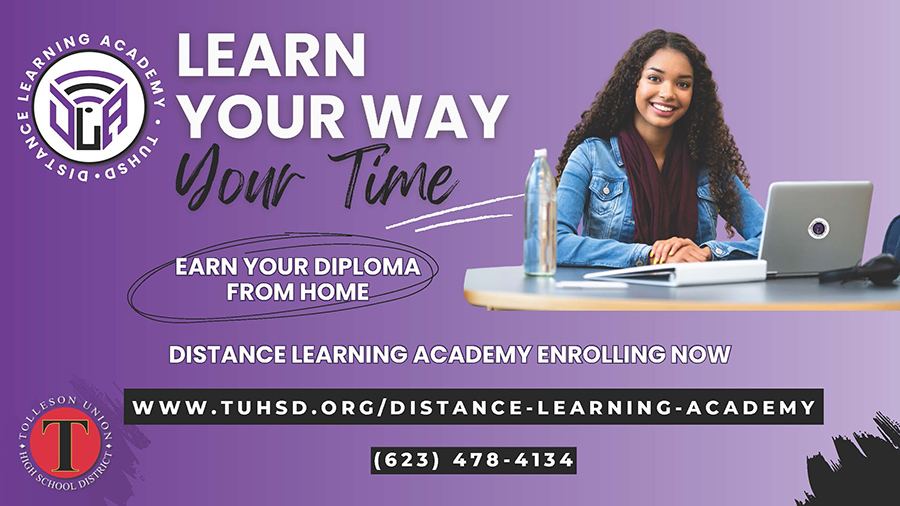 Dear Distance Learning Academy parents/guardians: for information regarding transcript requests, enrollments, or withdrawals, please contact our school registrar, Crystal Flower. To register for the 2023–2024 school year, please use the online registration portal. Thank you.
New Instructional Model
DLA is excited to announce a new instructional model for the 2023–2024 school year. Please take a moment to watch the video below for more information.
To count as present for each class, students must complete the daily attendance check which will consisting of one of the following for each period (determined by teacher): A daily class assignment, assessment, or discussion post. Students must complete this by 11:59 p.m. to be marked present for the day.
Change in daily class structure:
We will no longer require students to follow the bell schedule or login to live class sessions at designated times.
Students will need to complete their daily attendance checks and assignments before midnight, which allows for more flexibility during the day.
Pre-recorded videos containing lesson content and instruction will be available 24-7 via Canvas.
Students will complete course work through Canvas.
Optional live sessions will be available daily for students via Microsoft TEAMS for students wanting additional support and guidance.
Teachers will be available daily from 8:00 a.m. until 3:00 p.m. for individual support.
Course Load & Pacing:
We have designed a schedule so that students can enroll in only four classes at a time. We have found that managing six classes at a time is a challenge for many students.
Regular Pace Courses: We consider English and math courses "regular pace" courses. We will enroll students in English and math courses each semester.


Rapid Pace Courses: We consider all other courses: social studies, science, and electives "rapid pace" courses, meaning they will cover an entire semester in nine weeks. Since students are managing less courses, we believe they will be able to focus more in the course that they are taking.

Students will earn the same number of credits per semester as a traditional campus.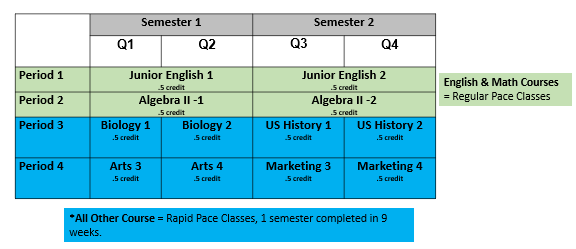 TUHSD students have the opportunity to enroll in online classes through TUHSD's Distance Learning Academy. While students attend DLA, they will participate and attend classes online using a variety of platforms, including Microsoft Teams & Canvas. Students attending DLA are still considered a student at their respective TUHSD home site and may participate in athletics and approved student activities.
Additional Resources: