Career and Technical Education

Career and Technical Education (CTE) prepares students for a wide range of careers. These careers require varying levels of education—from high school and postsecondary certificates to two- and four-year college degrees. CTE covers a variety of challenging fields that are constantly evolving due to the changing global economy.
Our Mission
In the Tolleson Union High School District, CTE helps students make the connection between education, employment, and the economy.
Our Vision
CTE, focusing on the future, today!
Focusing on the Future Today
CTE educators constantly review and update their programs, courses, and curriculum to reflect alignment to current business and industry standards and rigorous Arizona academic standards to prepare our students to meet the demands of our changing economy and workforce. CTE classes develop the skills most sought after by employers. These skills include: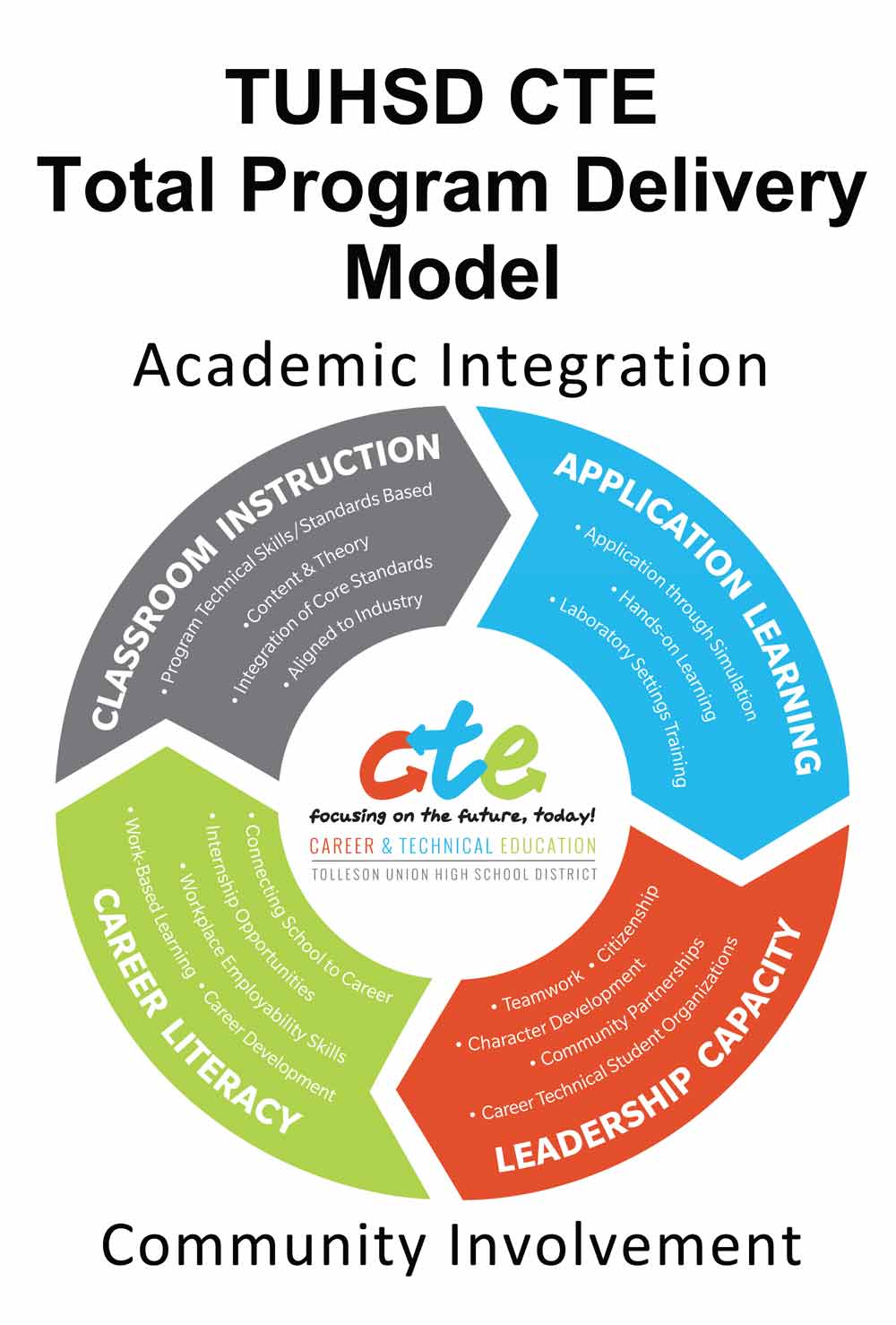 Strong academic and critical thinking skills
Strong technical skills in the field they choose to work in
Employability skills of teamwork, communication, and effective work habits.
In TUHSD we follow the Career and Technical Education Total Delivery Model by incorporating daily through academic integration and community involvement.
Classroom instruction aligned to the Arizona College & Career Ready Standards, Program Technical Skills, Workforce Employable Skills
Hands-on instruction and laboratory settings to apply content and practices learned
Career-based learning through internships upon completion of program sequence
Leadership development through Career and Technical Student Organizations
Career Pathways
TUHSD CTE Program Offerings
Career & Technical Student Organizations
Notice of Nondiscrimination in CTE Programs: TUHSD does not discriminate on the basis of race, color, national origin, gender, age, or disability in its CTE programs, services, or activities as required by the Title VI of the Civil Rights Act in 1964, as amended; Section 504 of the Rehabilitation Act of 1973, as amended; Title IX of the Education Amendments of 1972, as amended; The Age of Discrimination Act of 1975, as amended; and the Americans with Disabilities Act of 1990, as amended.
Contact Our Department
Jorge Moreno
Director of Career and Technical Education
(623) 478-4062
Send Email

Marlina Rose
CTE Student Support Analyst
(623) 478-4074
Send Email

Efrain Filerio
Career and Technical Education Coordinator
(623) 478-4064
Send Email